For any facility or operations manager, staying on track and keeping organized is a critical part of keeping your schedule and performing your job as well as possible. Every manager has a different organization method, a way they track the important parts of their operation that caters to their needs and the needs of their company. And in the modern era, technology has been at the forefront of the most effective organization strategies for any facility or company operations. From filling orders to keeping track of workdays and inventory, the interface and storage capabilities of modern applications have played a pivotal role in spurring on the rapid financial and production growth of companies and industries all over the world. These maintenance management applications offer leaps and bounds of sophistication, efficiency, and ease of use for any organization that relies on tracking large quantities of items, parts, or productions.
When it comes to your business and your facility operation, there are plenty of maintenance management apps that you could use to keep track of your orders and systems. But there is really only one that will get the job done exactly how you need it done, and that is the Express Maintenance Mobile app. From tracking work orders to keeping tabs on equipment and machinery conditions, the Express Maintenance Mobile app offers incredible data storage and easy-to-use search systems all within a simple interface that caters to your needs. Keep reading to learn more about the Express Maintenance Mobile app, and how it can revolutionize the way you run your facility.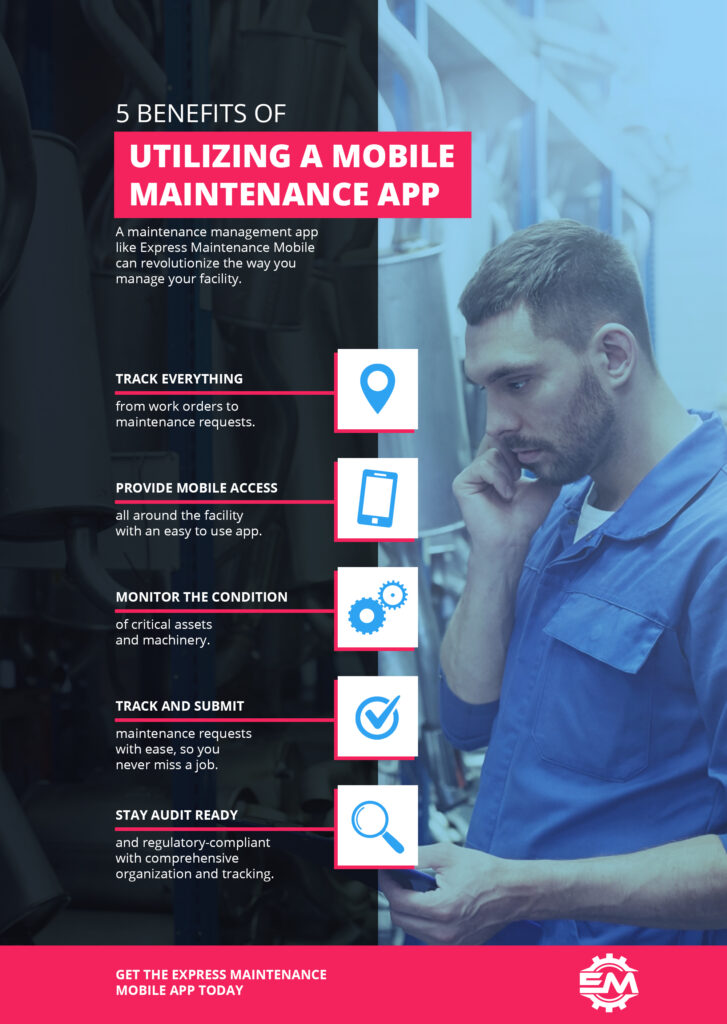 Track Everything…
The Express Maintenance Mobile app offers the role that you would expect out of any maintenance management app, but for everything your business might ever need. It can keep track of every piece of your facility's operation so that you can provide the effective facility management you need. From tracking the status of orders, to organizing maintenance requests in an easy-to-find search, the data storage and organizational capabilities of the Express Maintenance Mobile app will keep track of everything that is important in your facility, as well as making it incredibly easy to find again.
…While On The Go
Part of the utility and effectiveness of a maintenance management app is its portability. There are a variety of powerful applications out there for managing your operations, but having them accessible on a busy facility floor and/or providing access to them for all of your employees is much more difficult. Whether it's on a phone or a tablet, a maintenance management app like the Express Maintenance Mobile app gives you the organizational power and logistical capability to log, track, and organize everything from anywhere in the facility.
Monitor Equipment and Machinery
Even the best mobile maintenance apps out there might only offer limited tracking or monitoring abilities. With the Express Maintenance Mobile app, not only are you able to track orders and effectively manage a slew of maintenance requests, but you can also monitor the health and condition of machinery and other critical assets within your operating system. Never be surprised by faulty equipment, and stay on top of the assets and equipment that matter most with a reliable mobile maintenance app like Express Maintenance.
Track and Submit Requests
Another critical aspect for any facility manager is submitting, fulfilling, and tracking maintenance requests throughout the facility and throughout the company. A mobile maintenance app is especially effective for situations like this, as individual situations that require maintenance services can be submitted, prioritized, and distributed from a central online hub. Not only will this approve the efficiency of submitting maintenance requests, but it will also improve the efficiency and efficacy of fulfilling them.
Increase Regulatory Compliance
For any facility manager, it's a fine balance between improving speed, production, and efficiency, and still maintaining compliance with a variety of regulations within your facility and industry. As things move faster and external pressure increases, staying organized and maintaining proper standards can become more difficult. Never lose an important document or be unprepared for an audit with a mobile maintenance app like the Express Maintenance Mobile app.
Mobile Maintenance App for Facility Managers – Express Maintenance
As you can see, an effective mobile maintenance app can revolutionize the way a facility manager operates. Whether it's keeping on task or maintaining diligent records for later use, the right app can grease the wheels of any fast-moving facility, helping improve efficiency, production, and satisfaction. And the Express Maintenance Mobile app is pretty hard to beat. Express Maintenance has been an industry leader of reliable maintenance management software, and now, we have taken the organizational power and data storage capabilities of our software and provided it in an easy to use and incredibly mobile app. See how the Express Maintenance Mobile app can revolutionize your facility operations, and learn more here.