Your Implementation Solutions
Get the most out of your maintenance software with our expert implementation guidance. It's our mission to get you up and running with database population and implementation solutions that meet your needs and budget.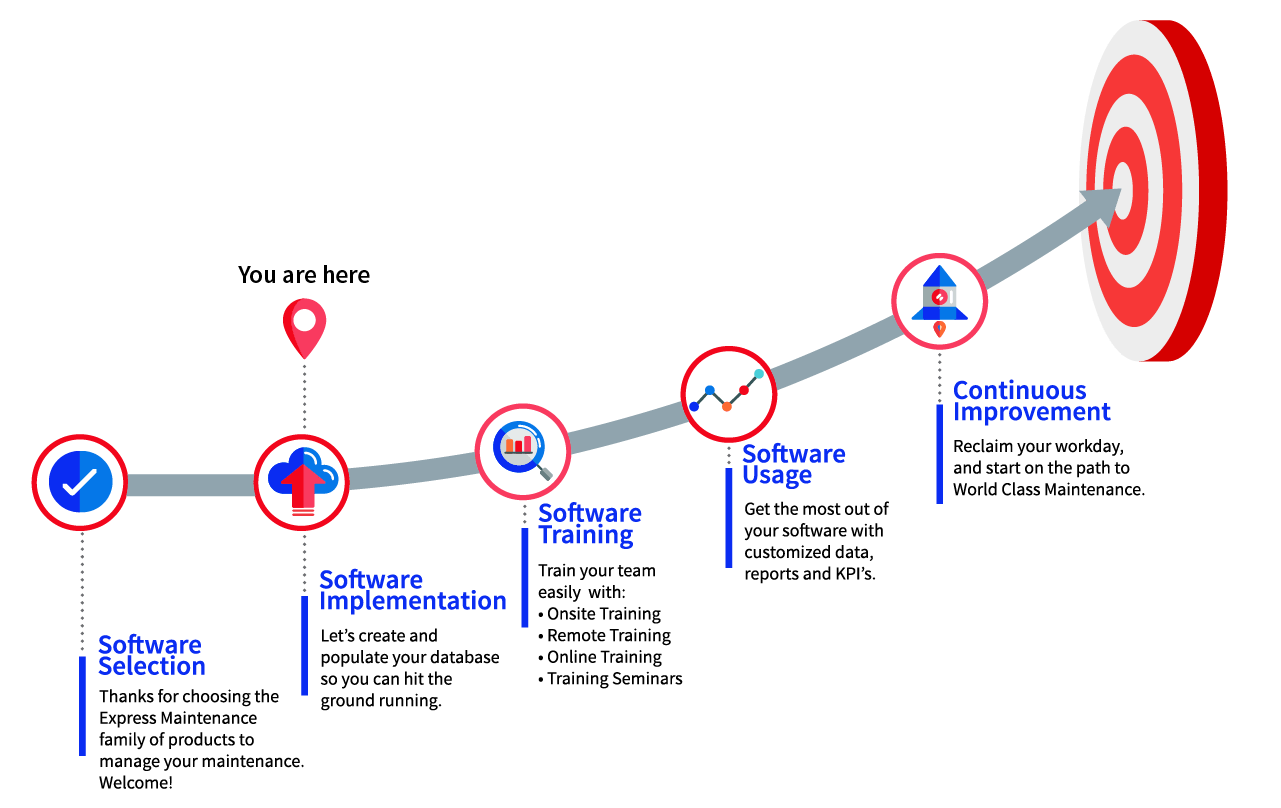 "The #1 Reason Maintenance Software fails to meet expectations is an incomplete implementation strategy"
– Gary Brown, President, Manufacturing Asset Solutions, USA
Choose an Implementation Plan that meets your needs and budget
Simple. Proven. Affordable. Maintenance Management from Express Maintenance CMMS
DO IT YOURSELF IMPLEMENTATION
Starting at $1,950
Small to Medium Operations

DIY Implementation Timeline

Modest Number of Assets
Plan DetailsThe DIY Plan offers remote assistance from an Implementation Expert who will provide up to 10 hours of phone coaching and instruction as you walk through collecting data, entering that data and learning how to use the software at your facility.
GUIDED IMPLEMENTATION
$8,000 - $20,000
Medium – Large Operations

30-60 Day Implementation Timeline

Recommended for multiple facilities
Plan DetailsThe Guided Implementation Plan is developed with a designated Project Manager and Database Engineer who will develop a customized implementation strategy for you. We will walk you through the data collection process, enter your data for you and hand you a fully operational system. Remote and onsite training options are available and are the greatest determining factor in overall price.
PROFESSIONAL IMPLEMENTATION
Custom Pricing
Large Companies / Innovators

60 Day + Implementation Timeline

Timely, Actionable and Accurate Data
Plan DetailsThe Professional Implementation Plan is a completely customized approach to implementation that takes into account your goals, resources, and budget. We will discuss your business and operational goals and begin with the end in mind. The PRO Plan typically includes an onsite assessment, data collection support, data entry, onsite and/or remote training, custom reports, custom API's (connecting Express Maintenance to third party softwares) and more.
Implementation Comparison Chart
| | | | |
| --- | --- | --- | --- |
| | DIY Plan | Guided Plan | Pro Plan |
| Implementation Timeline | Determined by Client | 30-60 Days + | 60 Days + |
| Implementation Support Hours | 10+ Hours | 20+ Hours | Custom |
| Expert Guidance | | | |
| Project Management | | | |
| Database Engineering | | | |
| Data Collection Services | | Remote Only | Onsite / Remote |
| Data Entry Services | | | Onsite / Remote |
| Remote Training | | Optional | |
| Onsite Training | | Optional | |
| Customized Reports | | | |
| KPI's | | | |
| Custom API's | | | |
| Scheduled Services | | | |
| Parts Assigned to Units | | | |
| Part Assigned to Services | | | |
We are privileged to provide maintenance solutions to some of the world's best manufacturers.
"I appreciated the knowledge, expertise, professionalism and level of assistance offered by Express Maintenance. Within just two days we had an entire implementation plan laid out for us by their project developers. We look forward to a long-term partnership with EM and would highly recommend them to any manufacturing company looking to improve their approach to total asset management."
Maintenance Supervisor
Teknor Apex RI
"Improved asset management and increased production."
"Our capabilities have been enhanced and performance has improved."
"The functionality and ease of use of this CMMS are outstanding"
Frequently Asked Questions
A few commonly asked questions regarding our software implementation plans. 
Why can't I just do my own Software Implementation?
You can! We just don't recommend it. We've been implementing, training and supporting Express Maintenance customers for over a decade and we stand by our implementation expertise. We offer a DIY Plan that provides a framework if you want to run the show or if you are limited on budget.
Facilities who implement their maintenance software without any guidance often return months (or even years) later frustrated.  It's always more expensive and time consuming to repair or completely restart a maintenance management system. If you're trying to curb costs, schedule a quick online consultation and we'll help you explore your options.
Do you do your training onsite or remote?
We offer both! We do recommend onsite training because information retention increases significantly, but we are also aware that you have a budget for this project and travel expenses can get steep. We also offer internmittent training seminars and remote training options:  Schedule a quick training consultation
Who's going to do the data collection?
We recommend you perform your own data collection and we offer tools that will help expedite the process.  We also offer data collection services in our PRO Implementation Plan.
How long will it take to implement the software?
There are several factors that come into play when trying to estimate how long your implementation will take. We recommend scheduling a free consultation with one of our project engineers to develop a strategy that will best fit your needs and budget.
How much does an implementation cost?
This depends on how much data collection there is and how fast you want Express Maintenance up and running. We have 3 levels of implementation schedule a quick consultation to find out which plan is right for you.
Do you offer 'turn-key' implementation?
Absolutely. During your Implementation Strategy Meeting, we'll explore your needs and timeline for a 'turn key' implementation plan.